Mobile 1st Turns Film on its Head.
Sometimes it's not just what's filmed that's important – it's the way it's filmed. We've noticed a rising trend in professional video that could change the shape of your future content. Vertical video.
Over the last couple of years the popularity for using video for promotions and communications went through the roof. Much of this was fired by the fact that mobile became the No.1 way for people to view online content. So if you've not considered vertical video in favour of widescreen footage, now might be the time to think again. The huge numbers of online users who simply don't want to turn their mobiles round means portrait video might end up being more than a trending format – so we're keeping an eye what that means for landscape.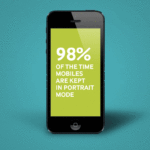 We always recommend that brands echo their customers' own habits. Mobile users tend to use the one-handed viewing technique with their thumb poised to play, pause or scroll away. To stop them mid-scroll, we want big, full-screen footage – and that means filming vertically. We might be seeing more portrait footage in the future, as brands like BMW adopt vertical video on their social channels.
Why Should You Consider Portrait Film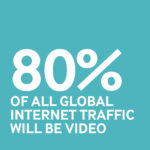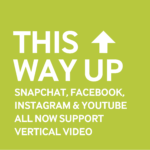 Snapchat, Facebook, Instagram and Youtube now all support vertical video
Global internet traffic from videos will make up 80% of all internet traffic by 2019**
Videos get 5 times more engagement than static content on Facebook
9 times more Snapchat videos are watched to completion in portrait mode
It's not just a choice of portrait or landscape, Facebook now supports 360o video too
And it's not just for mobile. Keep in mind that digital ad boards are often portrait format too.
Live Video
Live video has seen the biggest growth of all. It might not be right for every brand, but it's an important tool to consider. This ephemeral content has a short lifespan (less than 24hrs) and is viewed 'fresh' before it disappears. This builds a sense of urgency and the FOMO effect (fear of missing out) – so it's clear that it can be appropriate for promotions, time-sensitive news or simply to build an exciting, modern brand personality.
Choose Your Channel
If brands truly want to establish themselves as digital first and engage in a mobile first market, then they need to consider portrait film as a valuable marketing technique.
Quality, widescreen footage will still have it's place, especially for TV, but we need to start thinking 'full-screen' whether that means widescreen or portrait, depending on how your audience want to engage.
And whilst it might be tempting to repurpose existing content by cropping in the edit, shooting with the viewing format, and crucially the viewing channel in mind, is more relevant than ever. When your video is shown in the perfect orientation the viewer has the best brand experience possible. And whether you're shooting square, vertical or horizontal, it all comes down to quality content in the end.
*98% of the time mobiles are kept in portrait mode – Mobile Marketer
**OOyala
***source Cisco